The best gift for best friends
In this season filled with warmth and care, do you need a special gift for friends to express your feelings? Silk gifts symbolize delicacy, comfort, and luxury, whether as a gift or a special gesture to your friends. From silk pillowcases, scarves to eye masks and scrunchies, they are all presented in the highest quality to cater to your friends' diverse tastes and needs. Whether it's birthday, Thanksgiving Day, Christmas Day, or any other special occasion, silk gifts can convey your deep affection for your friends. They will not only satisfy you but also make your friends feel your friendship and love.
Caring for Sleep: Silk Pillowcase Sets
Silk pillowcase set is the perfect gift of tranquility and care to friends. Whether on busy workdays or peaceful nights, it brings them unparalleled comfort and peaceful sleep. The soft touch of silk gently envelops them, helping reduce wrinkles and protecting hair and skin. These pure silk pillowcases become their nightly companion, bringing sweet dreams and deep rest. It's not just a gift but also a wish for their health and happiness, hoping they wake up each day full of vitality and radiance.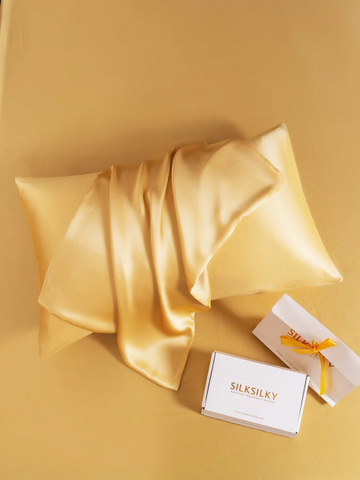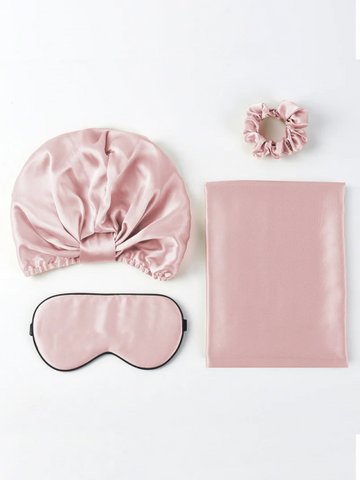 Explore more luxurious styles on SILKSILKY Silk Pillowcase Sets Collection.
Refined Clothing Accessories: Exquisite Silk Scarves
If you're considering a special gift for friends, why not think about a beautiful silk scarf? It's a perfect gift for your friends, colleagues or others, suitable for various occasions. Silk scarves are versatile fashion accessories that enhance their appearance in work settings, social gatherings, or leisure moments. Moreover, neck scarves provide warmth for the neck on cold days, making them essential for winter. Gifting a silk scarf is also a way to express your care and appreciation to friends, neighbors, or colleagues. This small gift will serve as a lasting reminder that you value their friendship and cooperation. So, whether it's to celebrate a birthday, professional achievement, or simply because you want to make them feel special, a silk scarf is a tasteful choice.
Explore more luxurious styles on SILKSILKY Silk Scarves Collection.
Improve Sleep Quality: Soft and Comfortable Silk Eye Mask
What about sending a gift for friends a luxurious silk eye mask? Eye mask for sleep is indeed a thoughtful gift, and it can provide great assistance for their beauty and relaxation. The soft and comfortable silk eye mask can effectively block out light, helping them enjoy deep relaxation anywhere they go. What's more, silk also helps reduce wrinkles, protect the skin, and keep hair smooth. Gifting a luxury silk sleep eye mask is a tasteful way to express your care for your friend. Every time they put on the eye mask, they will feel your friendship and affection. Whether it's to celebrate special occasions, birthdays, or just because you want them to feel special, a silk eye mask is a highly appreciated gift that will continue to provide comfort and enhance their beauty...
Elegant Hair Accessories: Silk Scrunchies
When you are looking for a special gift to express your deep affection for friends, silk scrunchies are an exquisite choice. Scrunchies are not only a practical hair accessory but also a way to enhance their hairstyles significantly. These silk hair ties not only add highlights to their hair, but they are also full of warmth and care.
The benefits of silk scrunchies are numerous. They are soft and smooth, preventing hair damage and tangles, helping to maintain the moisture and health of their hair. Moreover, silk material is gentler on the hair, preventing hair breakage and leaving no noticeable hair creases, allowing them to have beautiful hairstyles at any time. So, bring a touch of warmth and elegance to your friends by gifting them silk scrunchies.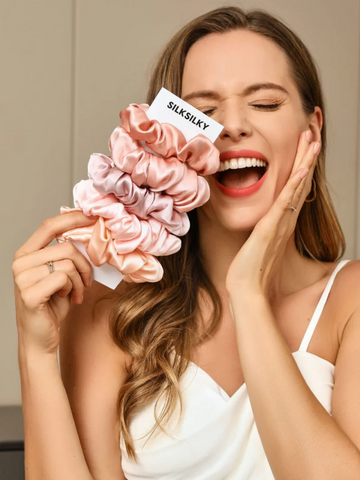 Explore more luxurious styles on SILKSILKY Silk Scrunchies Collection.
Silk pillowcases, scarves, eye masks, and hair ties as gifts for your friends is an unconventional way to express friendship and care. These silk products are not only elegant and luxurious but also provide comfort and beauty. And they are suitable for various occasions, whether it's celebrating birthdays, special moments, or simply because you want to make them feel special. Gifting silk products is a way to express deep affection and will continue to remind them of your friendship.