Silk nightgowns are a luxurious and timeless addition to any sleepwear collection. Whether you're looking for something comfortable to lounge in or a special piece for a romantic evening, a pure silk nightgown is a versatile and elegant option. In this guide, we'll cover everything you need to know about buying and wearing the best silk nightgowns, from the benefits of silk to the different styles available.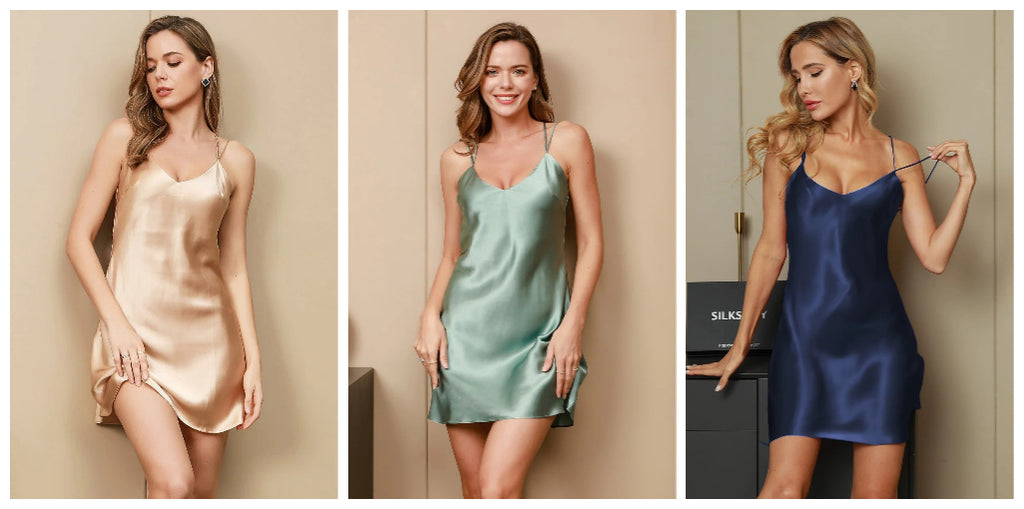 1. Benefits of Silk Nightgowns
Silk is a natural fabric that has been prized for its luxurious feel and durability for thousands of years. Silk nightgowns are known for their softness, comfort, and ability to regulate body temperature, making them an ideal choice for year-round wear. Silk also has natural moisture-wicking properties, which can help keep you cool and dry throughout the night. Additionally, silk is hypoallergenic, which makes it a great option for those with sensitive skin or allergies.
2. Buying a Silk Nightgown
When shopping for a silk nightgown, there are a few things to keep in mind to ensure you get the best quality and fit:
(1) Fabric Quality: Look for a high-quality silk fabric, such as mulberry silk, which is known for its softness and durability. Cheaper silk blends or lower quality silk may not feel as comfortable or last as long.
(2) Size and Fit: Make sure to check the size chart and measure yourself to ensure a proper fit. Silk nightgowns should be loose and flowy, but not too oversized.
(3) Style: There are many different styles of silk nightgowns to choose from, including short and long lengths, with or without sleeves, and various necklines. Consider what style will be most comfortable and flattering for you.
3. Wearing a Silk Nightgown
Silk nightgowns can be worn in many different ways, depending on the occasion and your personal style. Here are a few ideas to get you started:
(1) For lounging: Pair your silk nightgown with cozy slippers and a warm robe for a comfortable and stylish loungewear look.
(2) For a special occasion: Dress up your silk nightgown with strappy heels and statement jewelry for a glamorous and romantic look.
(3) For a comfortable night's sleep: Simply slip into your silk nightgown and enjoy the soft and luxurious feel against your skin.
In summary, silk nightgowns are a luxurious and comfortable addition to any sleepwear collection. When buying a silk nightgown, look for high-quality fabric, the right size and fit, and a style that suits your personal preferences. Whether you're lounging at home or dressing up for a special occasion, a silk nightgown is a versatile and elegant option that you're sure to love.